ALGX Project Spotlight: The Exceptional Foundation Chili Cook-Off Graphics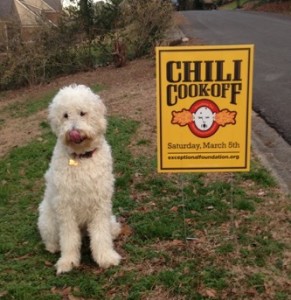 Calling all chili enthusiasts! The Exceptional Foundation is throwing an event you won't want to miss, and we're proud to be a part of it.
The Exceptional Foundation is a 501 (c) 3 nonprofit organization that provides social and recreational activities to mentally challenged individuals in the Greater Birmingham area. Each year, the nonprofit hosts a chili cook-off to raise money to support its programs.
According to Tricia Kirk, the Executive Director of The Exceptional Foundation, she was skeptical of the fundraiser originally, but now the event is in its 12th year and has raised more than $1.6 million for the nonprofit's mission.
"These funds significantly help keep our fees affordable for the more than 400 adults and children with special needs who call The Exceptional Foundation their second home," Kirk said. "In 2015, we even had a waiting list of groups wanting to buy a cooking team, but we didn't have room in the Brookwood Village space. I'm not too proud to admit when I am wrong, but in 2004 I was totally wrong to doubt the potential of a Chili Cook-Off."
To promote the event, The Exceptional Foundation turned to us for their graphics needs. We printed large banners, fliers, 200 yard signs and 16 posters for the event. The graphics, designed by Chris Davis, feature the Chili Cook-Off logo (AKA "Smokey"), which has become easily recognizable by the Chili Cook-Off devotees.
The Exceptional Foundation's 12th Annual Chili Cook-Off is on Saturday, March 5th from 10:30 a.m. to 3 p.m. in the Brookwood Village parking lot.
Now that you know a little more about the Chili Cook-Off, either sign up to compete or purchase a ticket to enjoy all the chili you can eat! For more details and ticket information, visit the event's website or Facebook event.