Service Spotlight: Graphic Word Walls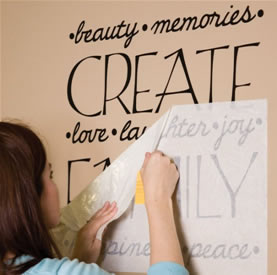 Trend alert! Personalize your space with custom Ready-to-Apply (RTA) Graphics. Our RTA graphics are individually cut letters in adhesive-backed vinyl, delivered to you with a mask of low-tac application tape for installing. Many businesses use RTA graphics to display store hours and logos, but they are also a great option for interior wall décor. They can be installed on almost any surface and are available in any font, size or color.
So, get creative with us and design a graphic word wall for ​your office, home, gym or classroom!
Brand Your Office or Business.
RTA graphics work well in storefronts, but there are other ways to use RTA graphics to brand and promote your business. For instance, installing a motivational quote or mission statement on an office wall can inspire a positive office environment and unify employees to work together toward a goal. RTA graphics are also a simple solution for displaying logos and other signage throughout an office or store. Check out the pictures below of the word wall projects we did for Blackjack Horticulture, Main Street Family Urgent Care and Nex21.
Personalize Your Home.
A graphic word wall can add a personal touch to your home. From installing your family's name in your entryway to displaying a sweet quote in your child's nursery, there are plenty of places for a word wall in your home. By mounting an inspirational quote or motivational saying, you can even promote a positive atmosphere. RTA graphics can also be installed temporarily, which makes them the ideal solution for decorating dorm walls or other rental spaces.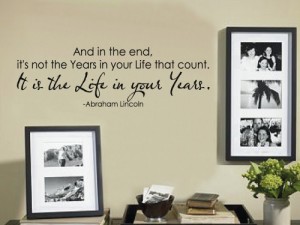 Offer Motivation at the Gym.
If there's anywhere people need a little motivation, it's most likely at the gym. Motivate your gym members by covering the gym walls with encouraging quotes to get them going. Check out the photos below of graphics we installed for the Huntsville 24 E Health Cluband Greystone Country Club's Fitness Center.
Decorate Your Classroom.
Teachers, we know you enjoy decking out your classroom, and classroom walls are a great place for a graphic word wall. With RTA graphics, you can display classroom rules, quotes, names and more! And, since these graphics can be installed temporarily, you can change them whenever you'd like.
There are plenty of ways to use RTA Graphics to customize your space. For more inspiration, be sure to check out our Pinterest page!