Egg-cellent Easter Graphics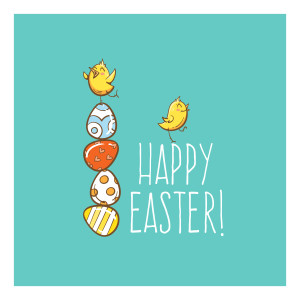 Hop into spring with some Easter graphics! The season of Easter eggs, bunnies, blooming flowers, sunshine and new beginnings has arrived. Integrating holiday themes into your marketing efforts is always a good idea. Whether you're promoting an Easter event, product or sales campaign, graphics are a great way to spread the word.
Here are a few graphics to use this Easter season:
Posters and Yard Signs: Festive, attention-grabbing posters are a simple and affordable way to promote your business or event. Hosting a community Easter egg hunt? Turn to yard signs and posters to get the word out. The pleasant spring weather gets everyone outside, so yard signs are especially effective this time of year. Don't be afraid to get creative with artwork and text, but keep it simple so people can read and understand how to act on your marketing materials. For more information and design inspiration, click here.
Floor Graphics: Colorful graphics are not just for walls and windows. With eye-catching floor graphics, you can guide your customers directly to your Easter merchandise or event. For instance, design and install bunny tracks or Easter egg graphics for the floor of your store. Our floor graphics are OSHA-approved, non-slip and removable. Check out a few examples here!
Window Graphics: If your business is located in a high-traffic area, adorn your windows with Easter-themed graphics to advertise your holiday promotions. Window graphics are an easy way to promote your business's phone number, website and social media sites, which gives customers the opportunity to engage further with your business. Click here to learn more about our window graphics.
However you choose to publicize your Easter events and promotions, we'd love to help. Give us a call today, and we will find a printing solution just for you!
Birmingham: 800-292-3806 • 205-252-8505 | Montgomery: 800-463-5610 • 334-263-0529