Alabama Graphics Named One of Best Commercial Printers in U.S. for Fifth Year Straight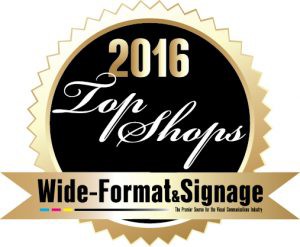 We're excited to announce that for the fifth year in a row, Alabama Graphics was named one of the Top 60 Print Shops in America by Wide-Format Imaging magazine, the premier source for wide and grand-format imaging. Alabama Graphics held the 23rd spot on the 2016 list, which recognizes large format printers who exhibit professional and improved efficiencies in the workplace.
Overall, Wide-Format Imaging's April 2016 issue announcing the Top Shops of 2016 stressed that constant innovation was the key to remaining a top print shop. The magazine noted, "None of these shops have rested on their previous successes, and they are always looking for new applications, new customers, new markets, and new ways to make their shops more efficient. At the end of the day, that is the type of thinking that makes a shop stand out and takes them from simply surviving to being one of the most influential and profitable shops in the country."
Alabama Graphics' CEO John Davis agreed that the rise of new technology has impacted and will continue to impact the printing industry. In the article, he commented, "Industry revenue has increased steadily over the last couple of years (close to 15 percent annually) and our revenue (color and graphics department) has been on track with that as well. We see the industry to continue this trend in the near future. New technology and applications will continue to increase business opportunities throughout the industry."
In addition to the Top 60 Shops recognition, Wide-Format Imaging's Editor, Denise Gustavson, praised Alabama Graphics' recent project with Children's of Alabama's new Pediatric Gait & Motion Analysis Lab. For this project, we designed and installed customized wall graphics. We were extremely honored to be a part of this project that will have such a huge impact on Children's Hospital and its patients.
Of the Top 60 Print Shops, Alabama Graphics was the only shop located in Alabama and one of the few located in the southeast. We're extremely proud and humbled by this recognition. We'd like to express our appreciation to all of our clients and supporters. We wouldn't be where we are today without you.
Read more about Wide-Format Imaging's Top 60 Shops here.