Project Spotlight: Sysco Interior Graphics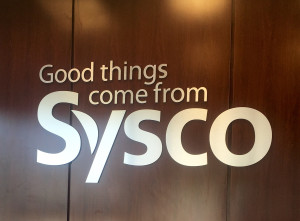 As a global leader in selling, marketing and distributing food, Sysco's Central Alabama office was in need of an upgrade. After repainting the office interior, replacing old carpet and installing new wall finishing in the main lobby, Sysco decided they needed additional color and upgraded signage to finish the job. So, to complete the project, Sysco turned to Alabama Graphics.
Sysco worked with Account Executive Alex Gouin to produce and install numerous interior graphics throughout their building. Before beginning the print process, our designer Carrie Evans helped by creating multiple mock-ups on photos of their office, which showed different materials and layouts. These mock-ups gave Sysco the opportunity to see how the printed pieces would look in their office and make changes before anything was printed.
For their logos, we used gatorboard with a silver-brush finish to create a custom, high-end look at a great price! One of the logos was installed in the lobby entrance, another was behind the second-floor reception desk, and a heading was installed above the Sales Force photos. We also put a logo on the podium in their conference room. Check out the photos below!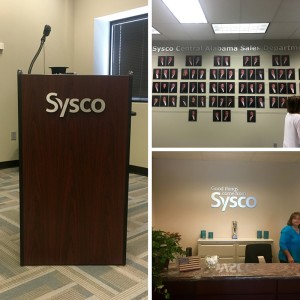 To decorate the entrance of the conference room, the lobby and other areas throughout the building, we printed and installed various food images. For these, we used a mix of gatorboard pieces mounted in frames and acrylic/plexi pieces mounted in standoffs. Check out the photos below!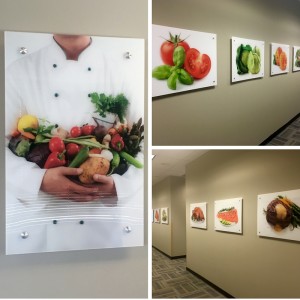 We enjoyed working with Sysco to update their signage and décor, and we're extremely pleased with how the graphics turned out. We're also excited to continue to work with Sysco on a few upcoming projects! Stay tuned for more photos!