Project Spotlight: Holiday Window Graphics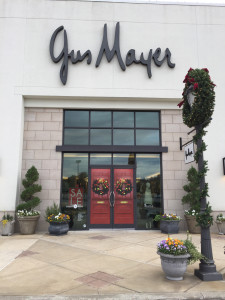 Just hear those sleigh bells jingling, ring-ting-tingling too, it's lovely weather for some holiday decorating! That's right, the holidays are here, so it's time to get in the holiday spirit with festive window graphics! Window graphics not only spread holiday cheer, but they also entice customers to come visit you. Check out the holiday window graphics Alabama Graphics designed and installed for these two local businesses!
For example, Birmingham-based law firm, Wiggins, Childs, Pantazis, Fisher & Goldfarb, LLC, decks out its windows for the holidays each year with window graphics we created. However, rather than designing new window graphics every year, the law firm chose to print its window graphics on Styrene, which is a reusable material that can be safely stored and easily re-installed year after year.
Not only can their window graphics be reused, but they can also be updated when necessary. For instance, last year, the law firm rebranded with a new logo. Instead of starting from scratch, we simply created a decal of the new logo to update the design.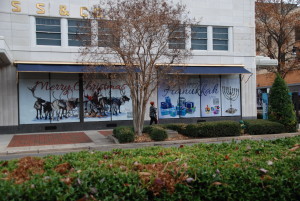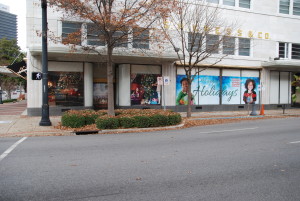 The law firm is not the only business decking out their windows for the holidays. Gus Mayer, a Birmingham-based and family-owned, upscale specialty department store, got into the holiday spirit with festive window perfs installed on the front doors of its location at The Summit. The Gus Mayer team turned to Alabama Graphics to design, produce and install window graphics to decorate for the holiday season.
Gus Mayer noted that they were looking for an inviting, homey and warm design that captured the bliss of the Christmas season. After a few mock ups, they settled on a final design that depicted their own Christmas wreaths photoshopped to look like they are hanging on two wooden red doors. And as an added safety bonus, since we printed on window perf, the person exiting the store will be able to see through the door clearly!
We're very pleased with the results, and the client is thrilled! We look forward to working with Gus Mayer in the future!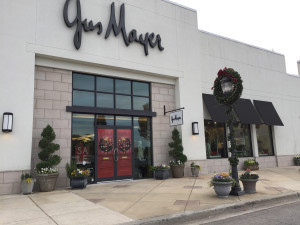 If your business's windows need some sprucing up for the holiday season, give us a call today! We're happy to discuss design details and the best materials for your business's needs. View our entire window graphics gallery here.
Birmingham: 800-292-3806 • 205-252-8505 | Montgomery: 800-463-5610 • 334-263-0529