Project Spotlight: Samford University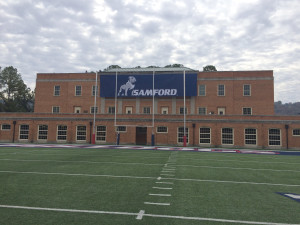 Located in Homewood, AL, Samford University is Alabama's top-ranked private university with nationally-ranked academic programs rooted in the university's Christian mission. Samford offers 30 undergraduate and graduate/professional degrees and fields 17 varsity sports that participate at the NCAA Division I level in the Southern Conference. The university decided to upgrade a few graphics around campus and turned to Alabama Graphics Account Executive Robert McCary for his expertise.
In November 2016, Samford completed a nearly year-long branding study, which resulted in a new bulldog spirit mark and an updated bell tower logo. The new branding was unveiled using a 64-foot mesh banner featuring the updated spirit mark as a part of the university's 175th anniversary celebration and homecoming weekend. Check it out in the picture above! Full color, digital print banners like this one are perfect for any space or occasion. Our DCX team has the capability to produce any number of banners, at virtually any size with every color possible.
Our DCX team also printed and applied the vinyl "SAM" graphics to the frosted windows pictured below to further support the university's rebranding efforts.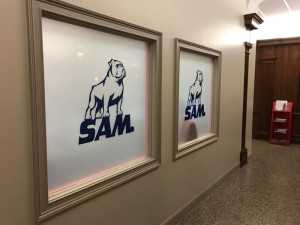 In addition to helping with Samford's rebranding project, we revamped a wall in the university's athletic department by installing a vibrant wallpaper and standoffs, which recognized Priority Program Members of the Bulldog Club. As you can see in the photo below, the dark blue wallpaper featured an image collage of Samford athletes and the university's "SU" logo. Wallpaper graphics provide a great option for concealing an entire wall and brightening up dull rooms. Check out some other wallpaper projects we've completed here.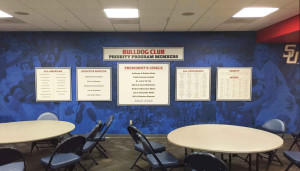 Lastly, in the university's mail center, we installed wall graphics featuring a "bulldog mail stamp" and white lettering for the words "shipping," "packaging," "mail" and "copying."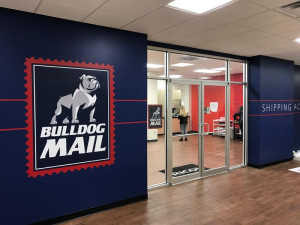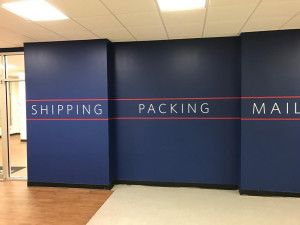 Alabama Graphics enjoyed working with Samford to accomplish these projects, and we look forward to working with them again! ​Go Bulldogs!