Project Spotlight: University of Montevallo Baseball Locker Room Wallpaper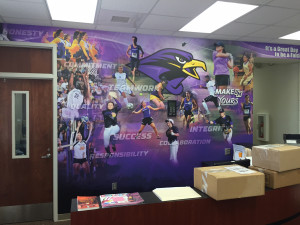 Last year, Alabama Graphics Sales Associate Robert McCary and Graphic Designer Carrie Evans had the pleasure of working with the University of Montevallo's Sports Information Director Wesley Hallman to update the look of the sports department's reception area. Because the area featured a large, blank wall, our team recommended concealing the wall with a Dreamscapes Wallpaper. The university was so pleased with the outcome of the project that they asked us to install a similar wallpaper in the baseball locker room.
After working with Hallman to understand the concept he envisioned for the space, we provided a few design mock-ups, and Hallman decided to go with the wallpaper design pictured below. As you can see, the wallpaper we designed and installed in the sports department's reception area features UM's colors (purple and gold), UM's mascot (the falcon), and a collage of UM athletes from each sport, and teamwork-related phrases pulled from the UM mission statement.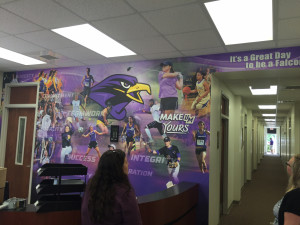 Since the sports department was pleased with this design, we decided to use a similar purple-and-gold theme for the baseball locker room. However, instead of including athletes from all sports in the wallpaper design, we only used photos of the baseball team and relevant teamwork-related phrases. The wallpaper was easily installed using a traditional method similar to how wallpaper is hung in a residence or commercial property. Check out the photos of the finished project below! We hope the sports department and the baseball team loves the locker room's new look as much as we do. Go Falcons!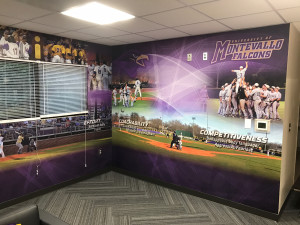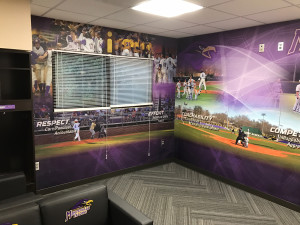 Wallpaper is an excellent graphics solution for concealing and adorning large, blank walls, whether they're in your office, locker room, classroom or another space. If you're unsure of the look you want for your space, don't worry—we can handle the graphic design, too! For more wall graphics inspiration and ideas, visit our gallery here. If you're interested in installing a custom wallpaper for your space, give us a call today!
Birmingham: 800-292-3806 • 205-252-8505 | Montgomery: 800-463-5610 • 334-263-0529