Patriotic Promotional Graphics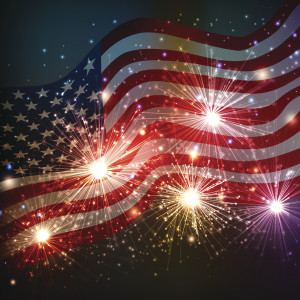 Though it seems like Memorial Day was just yesterday, the Fourth of July is just around the corner. Whether you're throwing a celebratory event or advertising a product or promotion, let Alabama Graphics be your one-stop shop for patriotic promotional graphics. From window graphics and point-of-purchase displays to yard signs and posters, we have plenty of red, white and blue ink to print whatever you need for your Fourth of July festivities. Check out a few of our graphic recommendations below!
Window Graphics: Attention-grabbing window graphics are an effective way to draw passersby into your store. Window graphics are also an easy way to promote your business's website, social media sites and phone number, which allows potential customers to learn more about your business and current sales promotion. Check out a few of our window graphic projects for inspiration here!
Floor Graphics: Guide customers inside and around your store or event space with directional floor graphics. Because our custom floor graphics are OSHA-approved, non-slip and removable, they're perfect for temporary use. Check out a few examples here!
Posters, Banners and Yard Signs: From neighborhood block parties to firework shows, posters, banners and yard signs are a simple and cost-effective way to promote Fourth of July festivities, especially if it's a local event. These graphics are easy to place around the community to get the word out. Consider hanging a big, eye-catching banner in a high-traffic area, place posters in local stores and restaurants, and spread yard signs throughout the neighborhood. For more information and design inspiration, check out our poster and banner galleries!
Flexible Displays/Custom Graphics: We design and produce various displays and graphics for the ever-changing needs of our customers. These graphics, which can range from table-top displays to hanging signage, are not only great for in-store advertising and event décor, but they can also be completely customized. View our gallery of flexible displays here and custom graphics here.
Whatever the occasion, our Digital Color Experts are here to make your graphics stand out to your customers. Give us a call today to see how we can help drive your holiday sales, products and events.
Birmingham: 800-292-3806 • 205-252-8505 | Montgomery: 800-463-5610 • 334-263-0529