Project Spotlight: Tire Pros' Tires for Tatas Campaign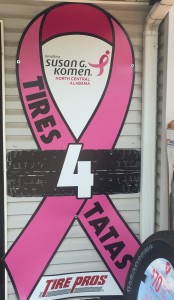 Tires for Tatas… pretty catchy, right?
Our Account Executive, Carrie Evans, recently worked with Tony Diliberto, Regional Marketing Manager at Tire Pros, to create banners for their Tires for Tatas campaign. Tire Pros is working with Susan G. Komen during the entire month of July to raise money for breast cancer research.
Once Tony told us about the campaign, we couldn't wait to help spread the word. We encourage you to learn more in our Q&A with him below!
Tell us about the Tire Pros' Tires for Tatas campaign.
We have six Central Alabama Tire Pros dealers that have all committed donate $2 to Susan G. Komen for each tire sold during July. Those participating include: Southern Rubber Tire Pros in Downtown Birmingham, Cahaba Tire in Pelham, Warrior Tire Pros and Auto Service in Warrior, Warren Tire and Auto in Tuscaloosa, A&R Tire Pros in West Jefferson, and McGriff Tire Pros in Cullman.
How did you decide how to go about promoting the campaign?
Well, originally I wanted to paint the buildings pink! But I figured that would have been a little expensive. Since we do traditional printing with Alabama Graphics like posters and small counter signs I got on phone with Carrie Evans and asked her about the largest piece of plastic they could print on. I knew that the large printed pieces were going to create the most awareness of the campaign, even to those who don't come in the store.
What's great is that we did it without spending thousands on a TV or radio ad campaign. We figured we could spend a couple hundred dollars doing the banners as opposed to spending a bunch of money on ads that we could have just donated directly to the nonprofit.
Breast Cancer Awareness is typically in October. Why run the campaign in July?
The fact is that Breast Cancer awareness shouldn't just be limited to October, and October isn't traditionally a high selling tire month. We wanted to have an impact and with July typically having higher tire sales, we decided to do it then in order to maximize the amount of money that gets donated.
We also looked at it from a marketing standpoint and decided that when you do something in October for Breast Cancer Awareness you blend in, while in July you're likely to stand out better. Susan G. Komen was actually really happy that we decided to do it this month.
Take a look at the graphics below!
Here are some other graphics we did for the Chattanooga Region Tire Pros Stores that have partnered with the Austin Hatcher Foundation for Pediatric Cancer in its "Treads of Hope" campaign. During the month of July the stores will raise funds for the Foundation by also donating $2 from every tire sold.
We encourage you to visit, Tiresfortatas.com to find a participating location near you!