New Year, New You: How To Improve Your Business with Graphics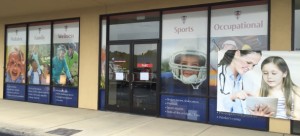 With the New Year now in full swing, you've probably started hitting the gym more, eating a little healthier and kicked some bad habits. But when it comes to your business, have you made the New Year's Resolutions 12that will help grow your bottom line?
Even when on a budget, there are ways to increase your bottom line while maximizing your budget. Here are a few ideas we'll be happy to help you execute!
Installing window graphics. Window graphics are a great way to reach out to the people that are walking or driving by your store; your local traffic. For many small businesses, getting the word out about what your company offers or introducing a new service can be a challenge. But if you have a good amount of foot or vehicle traffic around your store, a window graphic may be all you need to do the job. Use the graphics to let them know more about your company such current promotions, but also display your phone number, website and other places they can interact with your business online.
Check out some of our past window graphic projects here!
Applying wall decals. Wall decals have grown to be a very popular option for companies looking to improve the aesthetics of their business in a cost-effective way. Before using wallpaper or painting the entire business, you should definitely consider the benefits of wall decals. They're the perfect way to make a statement about your brand as soon as someone walks in the door. They can be used for branding, decoration or even promotional purposes. Plus, a major advantage, is you can change them out as you please!
Check out some examples here!
Using pop-up banner stands. While these can be beneficial anywhere in your business or at tradeshows, many find them useful as Point of Purchase displays. They can bring much attention to a product or service your company offers simply because they stand out so well. From flexible table top displays to custom exhibit booths that assemble quickly for trade shows, we offer complete pop-up display solutions.
Check out some pop-up banner stands here!
Whatever your business needs to keep its New Year's Resolutions in 2016, just remember, we're here to help! Give us a call today to see how we can help you improve your business with graphics!
Birmingham: 800-292-3806 • 205-252-8505 Montgomery: 800-463-5610 • 334-263-0529